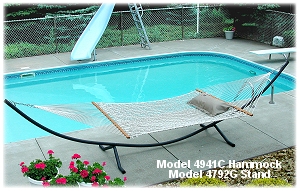 15' Family Size Jumbo Arc Stand
Model: 4792G - $119.00
Heavy 13 gauge steel construction, powder coated outdoor finish, end caps, outdoor plated hardware. Accommodates all 15' hammocks and many times a 12' hammock. Weight capacity approxiamtely 425 lbs. 15' overall length. Approximately 39" wide with a height over the ground of approximately 48". Available in hunter green only. Fits all our hammocks, from largest to smallest.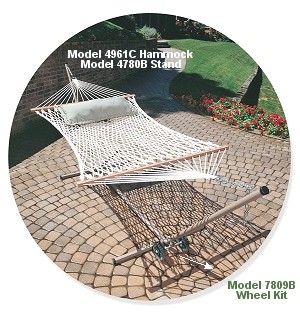 16' Jumbo Center-Beam Stand
Model: 4780B 88.00
Made of 100% tubular steel with powder coated finish and outdoor plated hardware. Available in hunter green, smoke and beige. Fits Model 4961C Hammock.
Wheel Kit
Model: 7809B $18.00
Fits 4780 2-pt. center-beam stand. Available in hunter green, smoke and beige. (Sold Separately)