All of our rope hammocks are made with 5/16th-8mm cotton or spun polyester rope, excluding the 2-Point Pocket Nylon Net Hammock. Our fabric and quilted hammocks are manufactured with SunbrellaTM, GlentuffTM or BerkileneTM outdoor fabrics. We offer Algoma quality hammocks.

All hammocks stands are made with 12 gauge and 13 gauge steel tubing, excluding some of the 4 points and portables hammocks. Our hammock stands are weight rated from 250 Lbs. to 650 Lbs.

We specialize in unique, low spill or no spill 3 and 4 point hammocks as well as 2 point rope, fabric and quilted hammocks, hammock chairs, hammocks stands, pillows and more.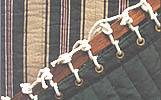 Our portable/foldable hammocks are great for the beach. The quilted hammocks feel like your resting on a cloud. The fabric hammocks come in a wild array of colors making this collection perfect when trying to color coordinate your outdoor furniture. We sell more than a name, we sell quality, value, service and knowledge.