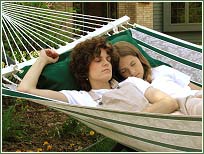 2-Point Polyester Outdoor Fabric Hammocks
Model: 2790 AWESOME DEAL $88.00 10 colors/prints
Hammock Bed: 4' 5" Wide x 6' 6" long with an 11 ft. overall length. This is the perfect hammock for designers and homeowners when coordinating your color scheme. A white PolyWood spreader bar is used. This is both environmentally conscious and no maintenance. Available in eleven different outdoor polyester color/print choices

The Huntley hunter green and white stripe polyester fabric hammock is shown. Fits model 4782G Stand as well as all larger hammock stands. Hrdware included with all hammcok stands

$119.00 check here to add 4792G 15' Jumbo Arc 2 point Hammock Stand - Heavy 12 Gauge Steel Tubing, Green powder coat only see here

$99.00 check here to add 4780 16' - Heavy 13 Gauge Steel Tubing Standard 2 Point Stand - Green, Beige, Smoke powder coat available see here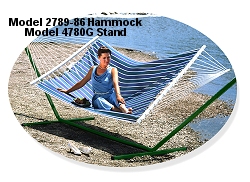 Fabric Hammock - Berkilene and GlenTuff Materials
Model: 2789-86
Hammock Bed: 55" wide x 80" long. Made of quality Berkilene fabric. Unique non-tilt sculptured pocket design. White PolyWood spreaders and hand woven macramé clewed ends of white polyester rope. Fits model 4780G stand.