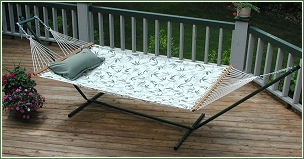 3-Point Polyester Hammock Island Leaf Print
Model: 3852-11 $99.00
Hammock Bed: 52" Wide x 82" long with an 11 ft. overall length. 100% natural cotton macramé clewed ends. Hardwood spreader bars. Fits model 4783G Stand.
3-Point Center Beam Stand
Model: 4783G $99.00
Made of 100% tubular steel with powder coated finish and outdoor plated hardware. Available in hunter green and beige.
$99.00 check here to add 4783 16' - Heavy 13 Gauge Steel Tubing Standard 3 Point Stand - Green, Beige coat available see here