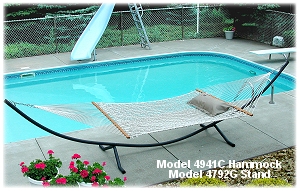 Large - Family Sized - Double Thick Cotton Rope Hammock
Model: 4941C - $156.00
Hammock Bed: 5'3" wide x 7' long with a 15 ft. overall length. The largest rope hammock available anywhere, offering the largest cord thickness at a 8mm diameter. Plenty of room for two. Hardwood spreader bars. Fits model 4780 and 4792G Stand.
$119.00 check here to add 4792G 15' Jumbo Arc 2 point Hammock Stand - Heavy 12 Gauge Steel Tubing, Green powder coat only seen to your left
$99.00 check here to add 4780 16' - Heavy 13 Gauge Steel Tubing Standard 2 Point Stand - Green, Beige, Smoke powder coat available seen below
15' Family Size Jumbo Arc Stand seen above
Model: 4792G - $119.00
Heavy 13 gauge steel construction, powder coated outdoor finish, end caps, outdoor plated hardware. Accommodates all 15' hammocks and many times a 12' hammock. Weight capacity approxiamtely 425 lbs. 15' overall length. Approximately 39" wide with a height over the ground of approximately 48". Available in hunter green only. Fits all our hammocks, from largest to smallest.