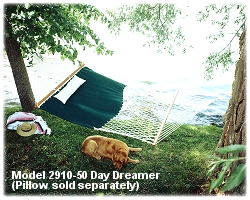 A Unique Combination of Fabric and Rope


Soft Fabric Surrounding Head, Neck, Back and Arms


100% Natural Cotton Rope


Classic Rope Weave for Easy Leg and Foot Movement


Hardwood Spreader Bars


For Tree to Tree Use or With Tubular Stands
2-Point Daydreamer Hammock
Model: 2910-50
Hammock Bed: 56" Wide x 84" x 13' overall length. Hunter green cotton fabric and 100% cotton rope weave. Hardwood spreader bars. Fits Model 4780 stand.
Jumbo 4-Point Rope Lounge and Stand Combination
Model: 6972G
Hammock Bed: 63" Wide x 84" long hammock is made of thick 100% natural cotton rope with heavy duty hardwood spreader bars. Stand is made of 12 and 14 gauge tubular steel with hunter green powder coated finish to withstand the elements. Includes heavy duty hardware and chains.